About Us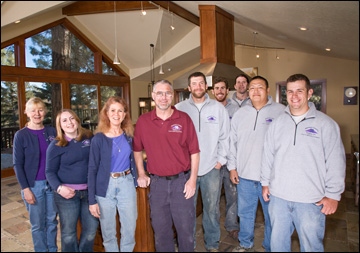 As a professional licensed Residential/Commercial contractor and businessman,
Randy Sealover is committed to quality in his work and believes in providing
the highest degree of customer satisfaction.

Our Mission
Mountain Country Builders, Inc. is committed to providing our clients with the highest degree of satisfaction through trustworthy, reliable services and producing quality Design/Build projects while utilizing an organized and efficient system.
We feel that the majority of our success is due to basic business principles:
Pride - We're proud of every job we do. We don't cut corners when it comes to quality workmanship.

Integrity & trust - We always tell the truth and we keep our promises.

Dependability - We are dependable, your time as well as ours is valuable, we won't waste it.

Customer Focus - We focus on our customers needs.

Teamwork - Together we achieve the extraordinary.
Randy believes that association memberships and continued education gives his company a competitive edge. He is a member of the Northern Arizona Building Assoc., National Assoc. of Home Builders, Remodelor 20 Club, and the Flagstaff Chamber of Commerce and has completed the Certified Graduate Remodelor and Certified Graduate Builder programs through NAHB and for his men in the field he holds safety meetings and skills training classes.
Mountain Country Builders works with a Lead Carpenter on their job sites. The Lead Carpenter is responsible for the day-to-day aspects of the job, communication with the homeowner, scheduling of deliveries and subcontractors, as well as making sure that the job is clean and secured at the end of the day.
As a licensed Residential/Commercial Contractor we are qualified and capable of handling any project from building a home to remodeling and repairing existing homes. We also offer design/build services that can drastically ease the stress of building for homowners. Feel free to contact us for more information on any of these services.